Why therapeutic horticulture?
National organisation Thrive describe social and therapeutic horticulture as a wonderfully flexible medium that can transform lives and can help everyone, regardless of age or disability.
The benefits of a sustained and active interest in gardening include:
Better physical health through exercise and learning how to use or strengthen muscles to improve mobility
Improved mental health through a sense of purpose and achievement
The opportunity to connect with others – reducing feelings of isolation or exclusion
Acquiring new skills to improve the chances of finding employment
Just feeling better for being outside, in touch with nature and in the 'great outdoors'
Social and therapeutic horticulture is the formal name given to the process of using gardening, plants and horticulture to help individuals develop. The diagram below shows the many many benefits of social and therapeutic horticulture with overall health and well-being at the centre.
Courtesy of Thrive
Starting a Project in Somerset
Getting a project off the ground can be challenging, whoever its users are. Thankfully there is a lot of advice out there about how to start a therapeutic horticulture project, and their have been a number of inspiring examples in Somerset.
The best first step would be to contact the organisations below and visit existing projects, to help you decide what you really want to achieve and how you can learn from those that have gone before you.
Inspiring examples in Somerset
The Vanessa Project, Yeovil

Grow Well, Taunton
The Growing Space, Wincanton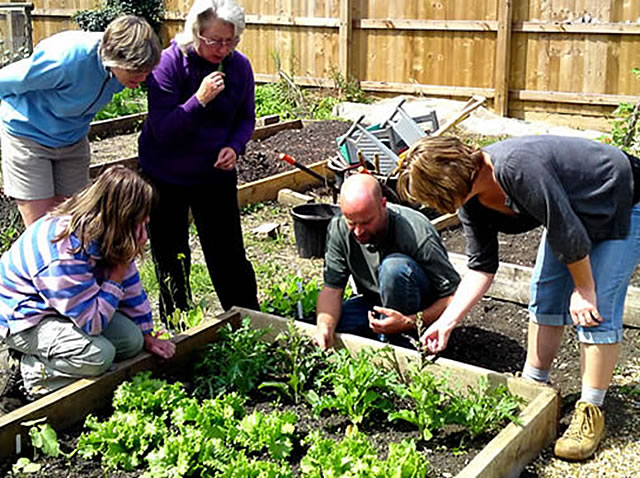 The Balsam Centre was initiated as a healthy living centre in 1999, achieving children's centre status in 2007. The Growing Space is a charity that forms part of the Healthy Living Centre and Children's Centre; it is also the name of The Centre's productive gardens.
The Growing Space provides services to adults and children living within a 10 mile radius of Wincanton who are recovering from, or currently experiencing, mental ill health, or whose disability or disadvantage can be redressed through developing a happier, more content lifestyle. The Charity provides a service unique to this area. There are no other agencies offering this sort of programme locally and it fills a gap in services provided by statutory medical and educational agencies.
Service delivery is undertaken by 2 paid members of staff and 10 volunteers. The Charity has worked successfully with 200 people per year since it was constituted in 2000. It offers planned gardening and horticultural activities that will contribute to the recovery process and/or build emotional resilience. For information about their work visit: http://www.thegrowingspace.org.uk/about.html
Resources & Further Information
Thrive, national charity dedicated to therapeutic horticulture, offering advice, courses and more.