Why work with schools and young people?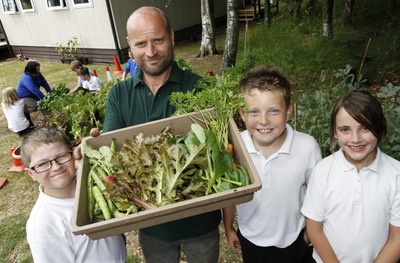 Pat Thomas, author of Stuffed, writes why we need to work with children and young people, "For most of us, the quest to create a sustainable future is linked to a desire to make the world a better place for our children. It makes sense, then, to look at sustainability in terms of longevity. This is where schools come in. Only by engaging the next generation in the issues we face and the solutions to them we create a future that is truly sustainable".
Different local food projects with schools & young people

There is a huge range of creative work that can be undertaken with schools and young people, in and out of formal education. Below are a few options with links to resources to get any of these ideas off the ground in Somerset.
Schools can participate in the Food for Life partnership, an awards scheme that provides a framework and guidance for schools on how to link school meals with growing, cooking, farm visits and community engagement. Dedicated teams also offer hands on support to school staff who are creating school gardens, caterers working to improve school meals, and farmers who want to host educational visits. For more information visit: www.foodforlife.org.uk
Further information & resources