Why Guerilla Gardening?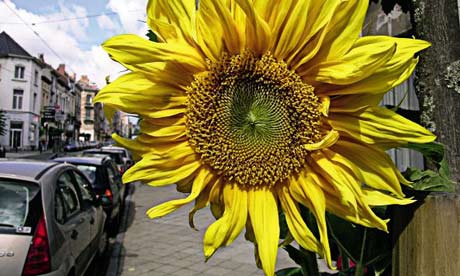 The Federation of City Farms and Community Gardens writes:
Guerrilla gardening is, in its basic form, a type of anarchic direct action where gardeners identify a disused, neglected or abandoned piece of land - which they do not own - and use it to grow either crops, flowering plants or to create wildlife areas. The aim is simple: to rescue land from perceived neglect or misuse and give it a fresh purpose.
Some guerrilla gardening activities are secretive and technically illegal, sometimes carried out under the cover of night. They can also be subversive and aimed at delivering a strong message to statutory authorities, such as the creation of wildflower gardens on barren roundabouts or where potholes in roads are filled with soil and planted with flowers.
The idea has spread throughout the world, with guerrilla gardening becoming particularly popular in urban areas. Here the desire to reclaim public space can range from 'seed bombing' - where a clay seed ball containing a mixture of clay soil, compost, seeds and water is thrown onto a patch of land inaccessible land - through to creating a whole community garden.
There are critics of guerrilla gardening. Some say that illegal activities which bypass legislation and official sanction should be discouraged. There is also criticism that guerrilla gardening is more about quick fixes and impact, rather than a meaningful solution to problems associated with land use.
However, one of the pioneers of guerrilla gardening in the UK, Richard Reynolds, said in a Daily Telegraph article in 2009, that he believed guerrilla gardening would continue to flourish as a result of the gloomy economic climate, particularly as people search for land to grow their own food.
"There is an increasing realisation that the focus on our personal betterment is not making us happy," he said. "Going out there and taking responsibility for a shared space with other people, on the other hand, can warm the soul."
Getting started

The benefits of Guerilla Gardening are that you don't need the organisational structure, bureaucracy or long-winded grant applications to get started! All you need is some compost, plants, bed making materials and tools to transform a piece of land anywhere.
Inspiring examples in Somerset & beyond

There has been some DIY growing on Glastonbury High Street and areas such as Frome have an active Incredible Edible Group, which is reclaiming and transforming land in the town.

Organisers from Incredible Edible Somerset were also moved to visit Incredible Edible Todmorden, international pioneers of community-led DIY planting. You can read about what we learnt form the trip here.
Links & Resources