Why community orchards?
About two thirds of Britain's orchards have been lost since 1960. Much of our fruit is imported, carrying its own environmental and social effects.
Community Orchards give local people an opportunity to grow fruit together on that is generally accessible to the public at all times. Orchards are maintained by volunteers who share the harvest. Surplus produce is also distributed via community events such as Wassails and Apple Days.
In West Somerset groups are making apple juice which covers the cost of maintaining the orchard and contributes to other groups getting started. Some projects are also donating produce such as juice to distribution schemes such as food banks.
Orchards can be an incredibly effective way of supporting biodiversity of both flora and fauna, and can keep alive many traditional varieties that supermarkets don't sell.
Orchards also create a different kind of space where people can come together, and are generally much lower maintenance than community gardens.
"Reviving a community orchard can help preserve and protect our stock of indigenous fruit trees for future generations" - Pat Thomas.
How to find your nearest community orchard
There are a number of well established community orchards in Somerset. You can find them by district here.
You may also find one on foodmapper or through a national organisation, such as Common Ground.
Starting a Community Orchard

If there isn't a community orchard in your area, you may be inspired to start one. New community orchards will most likely need many of the steps detailed in this guidebook.
You may wish to think about:
Above all, the best advice is to get support! Be inspired by other local projects and utilise their experience and knowledge in making your vision a reality. Make use of the experience and resources of national groups and regional groups, who are here to help.
Inspiring examples in Somerset
Somerset is apple country, and there is no shortage of inspiring community orchards across the county.

Frieze Hill Community Orchard
Frieze Hill Community Orchard is in Taunton. It was set up in 2003 by a group of local people. The land used to form part of the adjacent allotments. The volunteer run group have planted over 100 trees, diverse hedges and organised lots of popular local events. Read more about their work.
Porlock Vale Community Orchard

Porlock Vale Community Orchard were supported through the Get Growing Support Fund as part of the Somerset Land & Food Project. However their work started many months before, when two volunteers talked about how to revitalise the orchard in the village, communicating with the landowner and bringing people together to make the restoration possible. For more information about the history of the Orchard & how to get involved, visit: http://www.porlock.org/community/porlock_vale_community_orchard.php
The Keeping South Somerset Orchards Alive Project
The promoted the importance of traditional orchards in the heart of South Somerset's orchard country. They organised events & training, supported existing orchards with management advice, helped to start new orchards and more. Read about the impact of the project here.
Further sources of support & information
Organisations
Reports & Guides
Downloads from the Keeping South Somerset's Orchards Alive Project:
Recommended Reading
The Holistic Orchard, Michael Phillips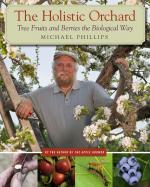 Community Orchards Handbook by Sue Clifford & Angela King